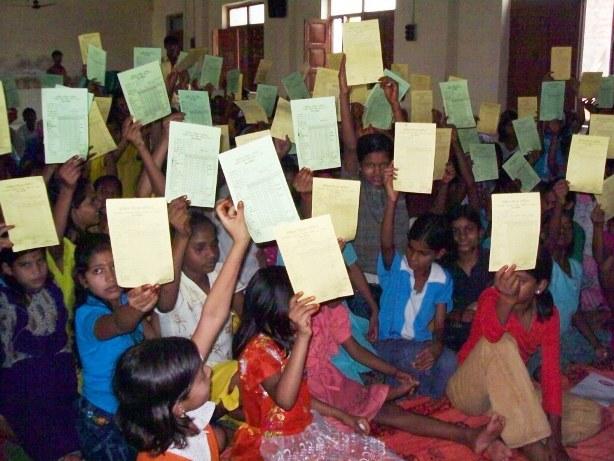 We are an organisation primarily working with rural people. The fact that we are located in a village about 16 km from the district headquarters and Hardoi itself gives us a strength to work in rural areas. Our sprawling campus is epicentre of all the activities of the organisation.
The ashram campus has offices, training centres, hostels, library, schools, hostels for students, residences for in-house people and visitors etc. Even in this remote area the offices are equipped with all modern office automation gadgets like computers, laptops, printers, photo copiers, LCD projector, internet, generators for continuous supply of electricity and a computerised branch of Central Bank of India etc. We have several vehicles for quick transportation.
In the first stage padyatras were organised in various development blocks of Hardoi district. Village Committees were formed in many villages. Rallies of landless agriculture labours, and marginal and small small farmers were organised at the block and district level. Attempt was made to get problems of rural area through people's awakening raised through padyatras and congregations. In fact the entire group believed that effort to resolve problems through mass awakeing is the only meaningful and permanent effort and worked under this belief. As a resut, government facilities reached people on a large scale, landless got possession over allotted land and the officials resolved land related disputes on the spot. These activities provided the ashram not only wisespread base but also provided movement shape.
Since the ashram was established to tread on the ideals of Gandhi Ji and Vinoba Ji, all used to frequent his ashram at Pavnar, Vardha, in Maharashtra. After the death of Vinoba Ji, padyatras were organised till his terahavin (13th day of cremation). At the end of these padyatras, the villagers put forth resolution to establish an ashram on 6 acre barren land at Sikandarpur village so as to conduct developmental activities. Later on the District Magistrate of Hardoi allotted this land to the ashram.
At present many activities of the ashram are being run from here. The organisation has made its presence felt in many districts of the State. It has worked in over 25 districts through various projects of land development and education. Recently, it has worked with organsations of 45 districts on MNREGA programme.