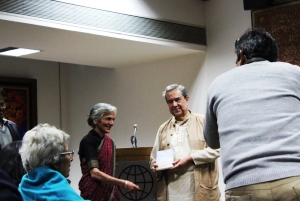 The Energy and Resources Institute (TERI) has organised a programme for formal release of the book The Jamun Tree and Other Stories on the Environment written by Ms Pamela Chatterjee. The book was released by Dr Ashok Khosla, Chairman, Development Alternatives and was dedicated to Late Ramesh Bhai, founder of Sarvodaya Ashram.
Dr Rajendra Pachauri, Director-General, TERI, Mr V B Eswaran, Chairman, SPWD, Ms Kusum Johri, Secretary, Sarvodaya Ashram and Mr Anupam Joshi, Environment Specialist, World Bank were panellist to have discussion on "Land Reclamation and natural resources management in the rural areas".
Mrs Daman Singh, Mrs Urmila Srivastava, Ms Kusum Johri, Mr Sharda Prasad Johri, Mr Vijay Bhai, Mr and Mrs Anurag Srivastav, Mr Ram Bharose, Mr Puttanlal, Mr Shriram, Mr Janki bhai and Mr Latif Bhai from Sarvodaya Ashram were present along with other distinguished guests.
The event was held at the World Bank office in Delhi on the January 30, 2012, at 3.30 p.m.
Through the Lens Eye