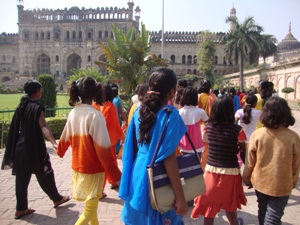 A group of almost 100 girls from the educational centres run by us went on to an educational tour to Lucknow, capital of Uttar Pradesh. Lucknow is some 110 km from Hardoi city and 125 km from Sarvodaya Ashram.
Led by teachers and senior functionaries of the ashram, the girls reached Hardoi railway station. A few girls had gone to Hardoi city or a railway station for the first time in their lives. Curious girls looked at the railway time table and other gadgets at the railway station while their peers purchased tickets.
It was a fun filled journey lasting for about one-and-a-half hours.
The first destination in Lucknow was Bara Imambara, housing Bhool-Bhlaiya (labyrinth) and Shahi mosque. Built in 1784 by Nawab Asaf-ud-Daula, Bara Imambara is said to be the world's largest arched room without pillars. The visiting girls were awe struck with the grandeur of Bara Imambara. They posed for photographs with the magnificent structure in the backdrop.
The next destination was Regional Science City, where girls learnt many secrets about science through the exhibits. Of particular interest were evolution of humans, functioning of human brain, physical and chemical sciences.
One-day educational tour ended with the trip to the science city.
Through the Lens Eye