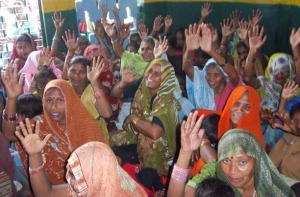 This is cross-cutting across all issues we work on as our interventions are targeted towards holistic development of the target groups.
Since Sarvodaya Ashram was founded to give a shape to the thoughts of Gandhi Ji and Vinoba Ji, it is a natural corollary that their thoughts and principles find place in all what we do. These principles are: non-violence, human freedom, equality and justice.
In all the work that we do gender concerns are in built. In education, emphasis is on the education of girls, in health it is on mothers and children, particularly girl children, and in agriculture it is on women (farmers) and women residing in villages.
Even after so many years since Independence, a large section of the society, particularly Scheduled Castes, is excluded – socially, politically and economically. In all our programmes we particularly address concerns of these excluded people and work towards increasing their participation in institutions of civic governance (panchayats).
We also carry out policy advocacy in partnership of other actors of civil society, including voluntary organisations and non-formal groups and our donors for pro-people policies of the Government.
Current Holistic Development Project
Through the Lens Eye