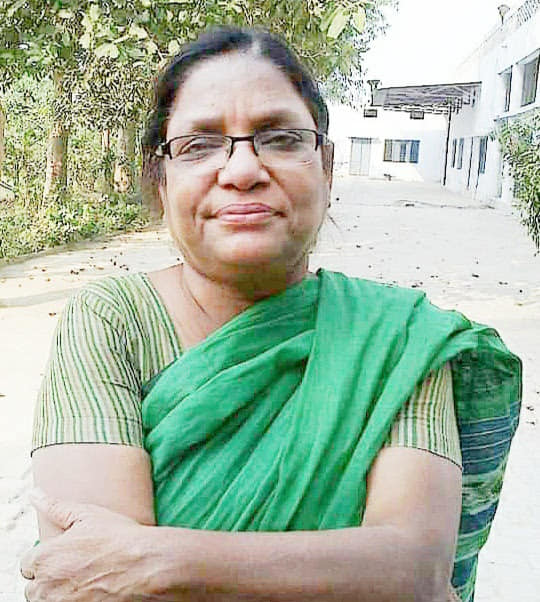 Urmila Srivastava has innovated an accelerated learning model for primary education. This model has been named Udaan (flight). In this residential programme, older girls (11-14) who were either denied or were forced to leave the school, are given a second chance to complete their primary school education. They are imparted learning equivalent to class 5 in one year by utilizing innovative patterns. Over last 20 years, in this famous programme which is quite often visited by Indian and foreign dignitaries who have keen interest in education, more than 2,000 girls have been mainstreamed.
Urmila Srivastava is an active member of Sarvodaya Ashram group to make sodic land reclamation programme a world fame model. It is called Hardoi pattern. Over years, this model has helped in reclaiming more than 1 lakh acres of land in Uttar Pradesh.
Urmila Srivastava is a social activist working with rural people with an active interest in the areas of education and health. She is a believer in Gandhian values who has dedicated her entire life for social causes. She has vision of managing sustainable rural development and brining innovation for education through Gandhian philosophy.
Apart from heading Sarvodaya Ashram, she is also associated with several organizations. She is president of Women Wing of Harijan Sevak Sangh, Delhi, executive committee member of All India Harijan Sevak Sangh, Delhi, vice-president of Bhuraj Seva Sansthan, Hardoi, manager of Adarsh Inter College, Thamarwa, Hardoi. She is also a prominent group member of SSFB (an informal Facebook group of 50,000 members, dedicated for harmonious relationships – an initiative by Sanjay Sinha, Executive Editor, Aaj Tak news channel.
Previously she has been associated with many organizations in different capacities:
Editorial Board: Nitya Nutan magazine, a monthly publication on Gandhian philosophy
Treasurer: Uttar Pradesh Voluntary Health Association 2012 – 2015
Member: VHAI, Voluntary Health Association of India, Delhi 2012 – 2015
Member: Central Board Member – Harijan Sevak Sangh, Delhi 2009 – 2011
President: Vinoba Sewa Ashram, Shahjahanpur 1980 – 1997
Member: Uttar Pradesh Bhudan Board 1977 – 79
State Level Field Worker: UP Land Reform Committee, Lucknow 1975 – 77
She has experience of on ground execution of projects in the areas of education, environment, and health which are funded from international agencies like UNICEF, WWF, CARE, SPWD, British High Commission, Oxfam India Trust, etc. She has lead multiple programmes of the Governments of India and Uttar Pradesh in the areas of community education development and agriculture for diversified practices, land reclamation, etc.
She is managing multiple residential schools from class 1 to 12 under social justice and empowerment programmes of the Government. She actively participated in Jago Re Yatra organized by Government of India. This rath yatra visited 30 districts of UP for gender sensitization of judiciary. A strong advocate of communal harmony she worked for the communal harmony in communally affected areas of Moradabad, Gonda, and Meerut in UP and in Kashmir for maintaining peace and harmony.
As a trainer, she trained UP's Sarva Shiksha Abhiyan district coordinators of 54 districts on innovation in education. She trained Bal Akhbar Module to UP master trainers of education department of Uttar Pradesh KGBB through UNICEF. She organized and participated in many padyatras and yatras within UP and across India. She has organized many workshops in Hardoi and Lucknow. She has representation on various district committees of Hardoi.
She visited England, France, Canada and Sri Lanka to learn, share and present the innovative work which is being done across the globe. This also includes presentation of a paper on Udaan, in the famous Alberta city hall of Canada.
An avid reader of Hindi literature, she holds Masters degree in Hindi and Sahitya Ratna from Hindi Sahitya Sammelan, Allahabad, Uttar Pradesh. She has attended a three-month residential programme on Rural Development from University of Birmingham in United Kingdom. She has got training on group development from National Institute of Rural Development, Hyderabad. She actively contributes to social media platforms. She is adept at singing motivational songs. In free time she listens to music.
Through the Lens Eye