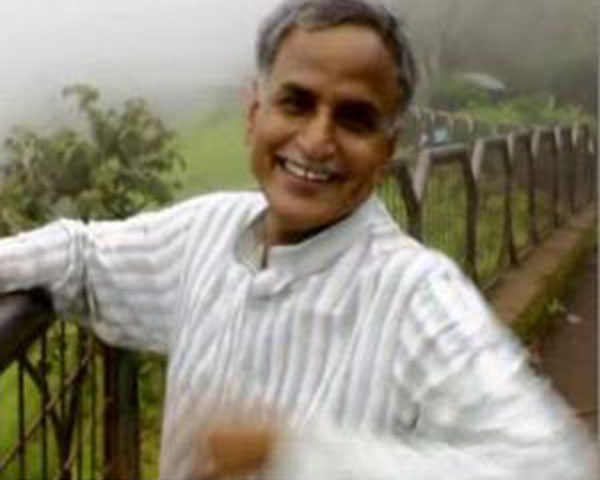 Gandhian Leader and president of All India Harijan Sewak Sangh, Dr Sankar Sanyal remembers fondly about his deep friendship with Ramesh Bhai in the Gandhian fraternity. He mentioned about how Ramesh Bhai arrived in the scene like a meteor who fell upon the dark social milieu of the contemporary society and enlightened it and made it habitable for the have nots.
P. Maruthi recalls, if anyone used to approach Gandhi ji for clarification on what Gandhi ji said, Gandhi ji used to say go to Vinoba for Clarification. If anyone approaches Vinoba ji for clarification on what Vinoba ji said, Vinoba ji used to say go to Nirmala for clarification. If anyone approach Nirmala didi for clarification on what Nirmala Didi said, Nirmala Didi used to say contact Ramesh Bhai. This was the wavelength of these influential people, in understanding, propagating and following Gandhian ideals. Though we miss Ramesh Bhai physically, his spirit remains not only with us, but with thousands of grass root Gandhian activists.
Born on May 1, 1951, in Thamarawa village, 24 km from Hardoi, a city next to Lucknow in Uttar Pradesh, Ramesh Bhai was the founding president of Sarvodaya Ashram. He worked for poverty alleviation, women empowerment and promoted Mahatma Gandhi's and Sant Vinoba's message. He firmly believed that a social change is the key to transform rural India. Both of his parents, father Brijmohan Lal Srivastava and mother Surajmukhi Srivastava, were teachers.
During his teenage, he organized villagers to fight against the odds of religious boundaries. He also established a college, which played an instrumental role for rural children in nearby areas. It was the first step towards institutionalization of his thoughts. He never looked back on his journey.
He joined Gram Daan Andolan in Sahrasha Bihar and organized youths for social change as a Secretary of Tarun Shanti Sena. As an active worker of UP land distribution committee, he was instrumental to develop a land distribution procedure. He also took part in execution of the program as an active participant in land distribution work to landless agricultural laborer across Uttar Pradesh. In earlier stage he did padyatras in most of the villages of Hardoi district and organized the landless agricultural laborers village in small artisans under the umbrella of All India Khet Majdoor Kisan Parishad.
Getting inspired by the Bhoodan Andolan by Sant Vinoba, he recognized that providing a fertile land to farmers could help in poverty alleviation. He worked out the Sodic Land Reclamation Program. Aim of this program was to reclaim non-fertile land into fertile land so that landless laborers could start getting land Acquisition rights and start producing crops that will help in their earning. He made this program as a People movement in all UP.
The Success of this approach eventually led to the Sodic Land Reclamation Project, which was approved by the World Bank through UPLDC. In 1983, he established Sarvodaya Ashram to launch this program in 25 districts of UP & Uttaranchal. He was also in Board of Directors of UPLDC. This program helped to provide over 1.2 million hectares of farmland that have fallen prey to sodic lend.
On his mission to promote peace within society, he also visited Pakistan. He led the team during padyatras, rallies in all districts of Uttar Pradesh. For Hardoi, he visited each tehsil and almost all villages. People often talks about his charismatic personality clubbed with simplicity.
Along with establishing Sarvodaya Ashram, Ramesh Bhai was the General Secretary of All India Harijan Sewak Sangh, an organization founded by Mahatma Gandhi. This organization works in the areas of untouchability, education etc. for Dalit across India. Chief Justice of India awarded him the Sewak Award for the social justice and empowerment journey he made to 30 districts of UP. He was also Advisor/Member to Aaskashvani, Lucknow, Member–Upper Gigantic Zone of Planning Commission, National Executive Board of CAPART, Trustee of Gandhi Ashram, Ahmadabad, Member of National Board of Elementary Education, and Gov. of India.
Many dignitaries like Chief Minister Narayan Datt Tiwari, Mulayam Singh Yadav, and Governor Motilal Vora visited Sarvodaya Ashram to visit the achievements in Social Work. He addressed the audience in Rachnatamak Samaj conferences along with late Prime Minister PV Narsimaha Rao in Delhi and UPA chairperson Sonia Gandhi in Andhra Pradesh.
His contribution to alleviation of poverty for the poor and the downtrodden has had no parallel and he single-handedly pursued this noble work throughout his life. This made him to join Bhoodan Andolan launched by Acharya Vinoba Bhave and left his indelible imprint on the success of the movement. One of Ramesh Bhai's stellar achievements was the establishment of a Sarvodaya Ashram at Hardoi, where he involved his entire family. This became a pilgrimage for like-minded people because the area became a central point of all round development. He assiduously made transformation in the landowning pattern of Uttar Pradesh by diverting land from the rich to the poor and by making the land more fertile to boost the income of the farmers. The success of this process was responsible Sodic Land Reclamation Project. The World Bank, which took part in the process through UPLDC, approved this.
His role in promoting women's education in rural India cannot be over emphasized, and he established several residential schools for girls, thus breaking the age-old social stigma against girls' education. To him, education did not mean formal education only, and he considered the educational institutions as the bastion of teaching high moral and humanitarian values.
It is little known that Ramesh Bhai was a gifted poet and took part in many Kavi Sammelan. His poems reveal social evils and his crusade against such evils. Known for his simple lifestyle, Ramesh Bhai travelled widely throughout the country to spread the message of Mahatma Gandhi and Sant Vinoba Bhave.
His multi-dimensional personality attracted the attention of Didi Nirmala Deshpande, one of the greatest social reformers of the day. She brought him into her close circle and gave enormous trust to organize and propagate Gandhian ideas and values. He also came in contact with leading politicians of the day, but he never joined active politics. This unparalleled characteristics of Ramesh Bhai influenced Didi immensely, and she gave him several responsibilities including Secretary Ship of All India Harijan Sevak Sangh and General Secretary of Akhil Bharat Rachnatmak Samaj, which he held till his death.
Through the Lens Eye