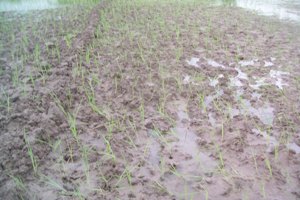 The place where Sarvodaya Ashram campus stands today was barren and usar (sodic) in the beginning. The founders reclaimed this usar land and turned into an oasis. Then their attention was drawn towards the fact that a large tract of land in Uttar Pradesh was sodic.
A programme to reclaim a part of this sodic land was initiated in 1986 and during the next seven years over 4,000 hectares of land belonging to nearly 6,000 farmers was reclaimed. Emboldened with this a massive programme was undertaken to reclaim over 100,000 hectares of sodic land. This programme is still underway.
Alongside, continously decreasing agriculture land and opportunities of employment in farm sector underline the fact that diversification of agriculture is done to meet the challenge. Diversification of agriculture involves seven components: agriculture, horticulture, food processing, fruit processing, dairy, animal husbandry and market.
Current Agriculture Projects
Through the Lens Eye